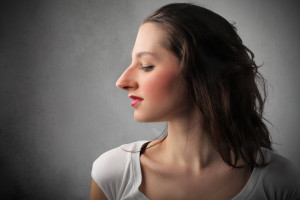 Some time ago I was at the funeral of a friend's dad. I was standing with a guy I went to high school with along with one of our former teachers.The three of us stood talking engrossed in some very profound discussion like…the weather, when a woman approached who was also a former classmate; as a matter of fact she had dated my buddy in our circle of three during high school. We greeted her warmly, and she said, "Don't you see anything different?" Now please understand it had been well over 25 years since our graduation. We looked at each other puzzled… and she blurted out, "I got my nose job." We all smiled and said "Oh". My buddy remarked after she walked away "I didn't notice it."
As I left that evening I thought wow isn't that crazy that she thought it would be the first thing we would zero in on. And sadly she must have thought that's what other people noticed during her pre nose job days, "Oh there is so and so with the big nose." As I reflected, I was taken by the sadness of it, the fact she felt that's how people remembered her and how it must have affected her own self image and worth.
It's amazing the multitude of messages we received about ourselves growing up and how they shaped us. Those messages came from so many different places and in many flavors, creating all sorts of hormonal disturbances. I mean we are infinitely more than the sum of our body parts…right? And we did not believe those lies hurled at us by those hurting people who themselves had been infected by similar lies…right?
We all need to answer those questions for ourselves. I once heard a very wise man say, "When does a lie stop becoming a lie? Answer: When we believe it to be true."
So what do you believe about yourself? Is it the truth or is it a lie? Has it held you back from your potential? Perhaps you should re-think who you are and who or what you have allowed to define you. Let me give you a truth to nibble on from a Psalm, "I will give thanks to You, for I am fearfully and wonderfully made." Psalm 139:14
Please grasp tightly to the value you have and allow the truth to work in you and through you. The healing part of our journey takes time, there are no short cuts, but it will be well worth the investment.
I wonder how people really remember you…